Would you like to receive email reminders of our upcoming productions and auditions?

Click here to be added to our
mailing list
Click here for 1927 Stories on the Arabian Theatre 1927 Opening
Click here for 1960's - 1990's Stories on the Arabian and LLT
Click here for 2009 Arabian Renovation and Chair Donors
Click here for 2011 - 2020 Stories on the Arabian and LLT

2000 - 2010 Stories on the Arabian and LLT





---


"Look Around Mississippi - Behind the Curtain"
By Walt Grayson for WLBT-TV November 2005

The Arabian Theatre in Laurel is similar to many theatres around the country, built in the heyday of movies, then out of business 50 years later. Some of the movie houses were torn down, but the Arabian in Laurel lives on. Laurel thought it had lost the Arabian at one time. It was originally located inside the Pinehurst Hotel and when they tore down the old hotel, everybody just assumed the theatre was gone, too. But, actually, the Arabian was a separate building. The tile on the lobby floor extends out the front door into the open where it once ran through the Pinehurst. Inside, the theatre still retains its original motif.

Wess Hughes is one of the artistic directors of the Laurel Little Theatre.

"During the early parts of the 1920s, Howard Carter discovered the King Tut ruins in Egypt and all of America became fascinated with Egyptology and Arabic and Egyptian influences were being seen in movie theatres all over the world. All the influences in this theatre as well are all Egyptian and Arabic. You see scarabs and phoenixs and turrets everywhere" he said.

But the magic wore off downtown walk-in movie houses about the mid 1970s. That's when a lot of towns tore down their treasured movie houses. Even the Arabian sat empty for three years before the Laurel Little Theatre bought it and renovated it. "We had to build a stage here because most movie houses don't have a stage. So we took out half of the original seats and built the entire stage floor and dressing rooms and wing space needed for our live presentations," said Hughes.

The original proscenium arch is well behind the curtain line, back where the movie screen was originally. But rescued from the center of the old arch and placed in the center of the new proscenium, is another of the Egyptian symbols that decorated the original theatre. It's a huge set of phoenix wings. And just like the proverbial phoenix rising from the ashes, the Arabian lives on as a very active community theatre.

Gerald Wansley is the president of the group this year. Theatre can change you, like it did his 10-year-old daughter. "She just recently played the lead in our revival of Annie. She had never done anything like that and was always bashful. But that happens to a lot of kids like that...and adults as well. I've benefited from that myself," said Wansley.

So Laurel still has its 1920s movie house with all the original Egyptian decorations, and the community has a playhouse where everybody has fun and learns about their own abilities, and the story of the Arabian theatre has a happy ending, just like the best of the movies it used to show.


back to top of page
---


"Now, We're Just Parker Posey's Parents"
Humor Keeps Actress's Popularity In Perspective
By Cori Bolger for the Jackson Mississippi Clarion-Ledger July 2006

Chris and Lynda Posey, the parents of actress Parker Posey, use a bulletin board to keep track of articles and photos from her many films and magazine articles at their home in Laurel. Posey is playing the part of Kitty Kowalski in the new film Superman Returns. She also is in The OH in Ohio which opens in limited release Friday.

It was a surreal moment for the Posey family the day they stopped at a Dairy Queen in rural Delhi, La. When Chris and Lynda Posey's daughter, Parker, stepped up to the counter, the teenage girl working behind it looked up and froze. There stood Parker, but all the girl could see was Libby Mae Brown, the gum-snapping Dairy Queen waitress in Waiting for Guffman.

"She said, 'Oh! You play that hick from the South!'," recalled Lynda Posey, laughing at the irony of the situation. "We all couldn't believe it. It was just crazy." Getting into Libby Mae's character, which required a thick Southern twang and cheerleader-like elasticity, came naturally to Parker, who practiced ballet while growing up in Laurel.

Parker, now a celebrity with a widespread fan base, is mostly appreciated for her dry, comedic wit and her variety of eccentric roles. "We tell people we used to be Chris and Lynda Posey, and now we're just Parker Posey's parents," Lynda Posey said with a chuckle. "In New York, it's like watching the domino effect when we walk behind her."

And it's no wonder. In 1997, Time magazine nicknamed Parker the "Queen of the Indies" for her roles in nearly 40 independent films in about nine years.

Lately, Posey has entered the mainstream spotlight with supporting roles in several big-budget studio films, including The Sweetest Thing, Scream 3, You've Got Mail and Blade: Trinity.

She's now on big screens nationwide playing Kitty Kowalski, the Pomeranian-clutching sidekick to Kevin Spacey's evil Lex Luthor in Superman Returns, the latest in a trail of major films in which she's typically cast as a petty villainess.

Posey, who lives in Manhattan, spends a majority of her time at filming sites and rarely gets the opportunity to come home, her parents said. Her twin brother, Chris (an attorney in Atlanta), accompanied her to the recent Superman premiere in Los Angeles.

Posey's publicist at Warner Brothers said the actress couldn't accommodate an interview because of her work schedule.

Getting in touch with Posey through her parents turned out to be equally as difficult because, as Chris says, they "don't meddle in her business" despite their enthusiasm for her career.

That doesn't mean they don't occasionally enjoy the benefits of having a celebrity for a daughter.

"If we can't get into a place, she can go up and say 'That's my mom and dad. Can you get them in?' " Lynda Posey said. "Then we'd sit there like queen bees and the place is abuzz and we get a lot of free desserts."

While Posey continues to make a name for herself in Hollywood, her parents live a quiet life in Laurel, where Chris Posey runs a Chevrolet dealership and Lynda Posey commutes to Greenwood to work as a chef and culinary instructor for the Viking Range Corp.

At home, they keep an extensive collection of her films and tabs on the whereabouts of their daughter, who went by the nickname "Missy" growing up.

"We have everything we can get our hands on," Lynda Posey said. "On some movies, she says, 'Mama, you don't need to see that; it's too violent.' Those are the ones we don't go to see."

But those warnings don't keep the Poseys from appreciating their daughter's range of complex characters, from those in dark humor to upbeat chick flicks. Posey even learned how to play the mandolin for her role in A Mighty Wind.

"I guess what I'm most pleased with is the integrity of her work," Lynda Posey said. "She's always gone for the artistic bend and the integrity of the piece and for the people who are doing it."

Born two months premature in Baltimore, Posey (named after supermodel Suzy Parker) wasn't expected to survive. The family relocated to Monroe, La., then to Laurel to start their family business.

"My family moved around a lot while I was growing up, so I wanted a place where everybody knew the kids' names," Lynda Posey said.

Posey, meanwhile, took an interest in ballet, practiced voraciously and attended the prestigious North Carolina School of the Arts in Winston-Salem, N.C. The experience shows in her work, which often highlights her physical capabilities: gymnastics, breakdancing and cartwheels.

"She was always very outspoken and charismatic and persuasive and charming," Lynda said. "Senior year, she said, 'I'm not going out for cheerleader, I want to be in drama' ... She always had drive and ambition and never took no for an answer."

As a teen, Posey performed in several local stage productions, such as Harvey at the Laurel Little Theatre and Barefoot in the Park at R.H. Watkins High School.

"She was spunky then and just full of life, had that mischievous look in her eye," said Wess Hughes, an artistic director at Laurel Little Theatre. "She was pretty much just what you'd see in the movies now, as a kid."

Yet, when Posey announced her intention to become a professional actress, some locals voiced their doubts. Others, such as Hughes and Posey's drama teacher, Anita Boyd, knew she had the guts to take the leap to New York or Los Angeles.

Hughes said, "Missy had that devil-don't-care attitude that can help carry kids through the usually tough road of auditions and rejections and more and more readings and auditions."

At 18, she left home to attend State University of New York at Purchase and eventually landed her first role on the soap opera As the World Turns.

Today, the people in Laurel wear Posey's fame as a "badge of honor," Hughes said. "Our little town is the home of famous opera singer Leontyne Price, television actors Ray Walston (My Favorite Martian) and Tom Lester (Eb on Green Acres), and Ricky Thibodeaux (who played Ricky and Lucy's son Little Ricky on the original I Love Lucy), but when I talk about our native sons, those names rarely impress anyone as much as when i mention Parker's name."

Almost daily, the Poseys receive a handful of letters from fans who somehow found their address and want to get in touch with their daughter.

On the surface, it's hard to tell that Posey grew up in the Deep South. Her mother maintains that the genteel culture shows in Posey's morals and manners, a compliment to her outspoken and strong individuality.

"We didn't believe in beauty contests and that whole pageant thing," Lynda Posey said. "I told her she was pretty but it wasn't what I centered on ... It was about the content of your character, what you want to do and be and yeah, we're all nice looking around here, but so what?"


back to top of page
---


"Local Broadcasting Icon Dies From Stroke"
Jim Gibbon Was Also One Of The Founders of LLT
By Brandon Fincher for the Laurel Leader-Call April 2007

Perhaps the only thing more difficult to predict than the weather is life.

No one could have predicted the sudden passing on Wednesday evening of longtime WDAM weather forecaster Jim Gibbon from an apparent stroke. WDAM General Manager Jim Cameron said, "It's a complete shock that it happened like this. We're all grieving over his death even though he had a distinguished career and a happy life. He had entered a period where he was having a really good time and realizing, for the first time, he had made a tremendous contribution to the area."

Gibbon, 76, was a resident of Laurel and had worked for WDAM for 43 years, beginning in 1964. He had retired from the television station in February of this year. WDAM evening anchor and news director Randy Swan said, "We still consider him a part of the family here at the station. This is a big loss for all of us."

Gibbon was born in Dallas, Texas, but had grown up in Mississippi. He worked in radio around 15 years before starting at WDAM. "He's an old-school broadcaster who had respect for the profession," Cameron said. "I grew up watching him, and it was an honor to work with him. I never looked at him as being his boss, but instead being his friend."

Most remember Gibbon as the station's early morning weather forecaster, but he had also hosted programs and read the news during his career. Swan said he was probably the most dependable person he had ever worked with. "In my 30 years working with him, he never once called in sick. The only time he missed was when he was physically in the hospital," Swan said. "We would even have to tell him 'Jim, you need to take your vacation.' He would let others take their vacation and then take what was left."

When he was away from work, Cameron said Gibbon had many hobbies and especially seemed to enjoy Broadway shows, music and theater. He was one of the founders of the Laurel Little Theatre and served on its board of directors and often directed or acted in its productions.

After serving in the military during the Korean Conflict and attending Jones County Junior College, he went to the University of Southern California. Cameron said, "He finished his requirements for his bachelor's degree at Southern Cal in the early-to-mid 50s, and he could tell you a lot of stories about people who had become quite famous that he had classes with or met while he was out there.

Cameron said Gibbon seemed to be enjoying his retirement and kept in touch with people at the station. According to Cameron, many people had approached Gibbon after his retirement and told him how much they enjoyed his work at WDAM.

"He kept things in perspective, just the amount of love people had expressed for his work over the years was overwhelming. If something positive could be said, it's he got to know how much people really appreciated him before he died," Cameron said.


back to top of page
---


"Laurel Little Theatre Founder Dies At 84"
By Nancy Musgrove for the Hattiesburg-American May 2007

On stage and in life, Betty Ann Borgman Whitt was a funny lady who adored children and was devoted to the Laurel Little Theatre, say those who knew her. Whitt, 84, a longtime resident of Laurel, Petal and Moselle, died Thursday at South Central Regional Medical Center in Laurel.

She was active in education and theater in Laurel and Petal, including directing and acting in numerous productions at the Laurel Little Theatre, according to her daughter-in-law, Kim Whitt of Moselle. "She absolutely adored children. She loved working with children, and she held high expectation for the accomplishments of children," Kim Whitt said.

Whitt was born in Grand Rapids, Mich., and moved to Laurel about 45 years ago. She was a first-grade teacher Laurel's St. John's Day School for several years and, later, directed the kindergarten program at First Presbyterian Church of Petal, where she was also a teacher.

Laurel Little Theatre historian Wess Hughes said Whitt "was one of the original group that founded our Little Theater back in 1961," and she served on the board of directors many years and directed and acted in many plays from the 1960s up through the 1990s.

"When I came down to LLT in the mid-'70s and did my first little role, Betty was one of the first to encourage me and talk me into doing more for them," Hughes said.

"She was a great comedienne - and I mean really, really great - so funny in every part I ever saw her in. She could have given Lucille Ball or Carol Burnett a run for their money any day," Hughes said.

Hughes said he saw her in the audience when he directed 42nd Street during the past season. He said she was still the same feisty, funny woman he's always admired and adored.

Whitt served as president of the Newcomers' Club of the current YWCO in Laurel and taught swimming and dramatics classes from her home for hundreds of children in the Laurel area, according to Kim Whitt.

She is survived by her husband, Fletcher Whitt; and four sons, John Whitt and Mike Whitt, both of Moselle, Mark Whitt of Birmingham, Ala., and Monte Whitt of Roosevelt, Utah.


back to top of page
---


Hall Enjoys Work With Laurel Little Theatre
By JCJC Public Relations Dept intern Sabrina Chess
for the Laurel Leader-Call September 2007

Amanda Hall, Jones County Junior College Director of Student Accounts, spoke adamantly about the role theatre has played in her life for many years. Hall calls the Laurel Little Theatre her second home and has been involved there with all aspects of theatre.

She has been a board member at LLT for three years and she has also served as assistant director of seven productions. Last season, she made her directorial debut directing the literary classic The Secret Garden. She plans to continue directing this season as well. In addition to directing, Hall has also performed in numerous LLT productions.

Many other faculty and staff members here at Jones are also supporters of Laurel Little Theatre, through membership donations, attending shows or members of the board. Rick Youngblood, Vice President of Business Affairs, and even JCJC President Dr. Jesse Smith have even performed on the LLT stage.

The timeless musical Peter Pan was LLTs season opener this year. It was the first time this show was performed in Laurel and also the first time actors were flown on stage at LLT.

ZFX Flying, a professional flying company that assisted with the Broadway production of Peter Pan starring Cathy Rigby, equipped and trained the staff in Laurel. Using an intricate system of ropes, harnesses and a pull system, cast members of LLTs Peter Pan flew across the stage of the historic downtown Arabian Theatre.

Hall starred as 'Wendy' in the production. It was wonderful to see the children's faces as they watched the show, Hall said. The best part was seeing their eyes light up each time Peter Pan would fly. It never seemed to get old even to the kids who watched the show night after night.

Flying was not the only first for LLT with Peter Pan. It also marked the first time the theatre had a corporate sponsor. Howard Industries sponsored the entire Peter Pan production. It was a thrilling experience to be a part of a momentous event for LLT and form a partnership with a corporation that shared our passion for theatre. Howard Industries truly gave us our wings, Hall said.

In addition to her involvement in the theatre and her work at Jones, Hall is also a student at the University of Southern Mississippi in Hattiesburg. She is studying to be a secondary education drama teacher.

She enjoys her work in productions with high school and elementary students the most and feels they are impressionable and can be molded in a positive way. Her work with children influenced her decision to become a drama teacher. Hall also wants to revive the lack of drama programs in local high schools.

The Laurel Little Theatre is open to anyone in the community. The theatre is always looking for new faces to star in productions, help backstage, direct and be members of the board of directors.


back to top of page
---


Encore! History Helping LLT Restore Arabian to Original Glory
By Jason Niblett at the Laurel Leader-Call July 2008

According to history, back in 1927 just before the Great Depression, the Saenger Brothers opened up a chain of grand movie houses. The ornate, unique buildings sprung up in New Orleans, La.; Mobile, Ala.; Pensacola, Fla.; Biloxi, Hattiesburg, Laurel and other cities in Mississippi. Laurel's Arabian Theatre was the smallest of the Saenger Theatres, but it still had a capacity of nearly 1000 people. It was constructed as part of the Pinehurst Hotel in downtown Laurel.

As years became decades, the theatre transitioned from silent films to "talkies" and the hotel eventually was torn down. The Arabian's duty to show films ended in 1976 and in 1977 the Laurel Little Theatre, a group of thespians who were searching for a home, chose to purchase the building over the former Strand Theatre building because the Arabian had been in use more recently.

Technology, features, building requirements, and other duties of a quality theatre have changed drastically over the years. So have the styles and decor of choice. But, with the continuing success of the Standing Room Only campaign, fans of the Laurel Little Theatre and the Arabian itself will soon find the building more like it was back in 1927, now making an encore of sorts to her supporters.

George Jackson, a board member for the Laurel Little Theatre, said many projects are in the works to not only make the theatre more user-friendly, but also restore it to how the architect and developers meant for it to be displayed. With the assistance of theatre historian Bill Hooper, many aspects of the theatre will be rejuvenated. Hooper has spent much time studying the Saenger theatres.

Architect Emile Weil designed several theatres across Texas, Mississippi, Louisiana, Florida, and Arkansas. Each of these had a different theme. Laurel's has a Persian theme, Hooper said, while Mobile's has a port city theme, Meridian's has a temple theme, etc.

"Weil did all of these a little bit differently," Hooper said. "It was like he was having fun with it."

The exterior of the Arabian is simpler than others because it was once inside the hotel and was never designed to be a standalone building. "It had no front on it," Hooper said. "They literally tore the building down around it."

Tiles in the foyer and outside leading up to the theatre have fallen into disrepair over the years. Seats became broken, the wiring is extremely old, and the neon sign hasn't worked in decades. But, all of that is undergoing a change thanks to the current campaign and the future support of friends.

"We're getting somebody to make these," Jackson said as he pointed towards the many different styles of tile at the entrance. "We're also getting super high quality, plush, deep, vivid, active theatre carpet."

Even the old Arabian sign that has become a landmark in downtown Laurel will see some changes. The sign, built in the 1940s, will receive a fresh coat of paint and be moved to the back. Jackson said an exact replica will be built for the front and will light downtown with neon lights original to that style in the future. He said the theatre will also finally be marked with a Laurel Little Theatre sign.

There are also plans for some work with the facade. Plans from when the little theatre bought the building and the city tore down the Pinehurst Hotel included an archway from the theatre's courtyard to Pinehurst Park. Those plans may finally become reality, and people should notice the outside dressed up, too.

"Thanks to Bill's enthusiasm and historical perspective," Jackson said. People will notice new paint, better lighting, and a restored color palate inside, too, he said.

"Bring back some of that color," Jackson said. "Bring back some of that artistic detail."


back to top of page
---


Significant Find Gives Boost to Campaign
Laurel Little Theatre Still Needs Public's Help
By Jason Niblett at the Laurel Leader-Call July 2008

Leader-Call Editor's note: The following is part two of a series featuring the importance of the Arabian Theatre as part of Laurel's history. The first article, published Monday, July 14, features some of the theatre's storied background and plans for upgrades.

So far, the campaign has been extremely successful. They've received enough donations to replace carpet, flooring, and other much-needed items. But, after beginning their quest to find the true hidden beauty of the Arabian Theatre, Laurel Little Theatre members say they need another boost from the community.

Work is well underway at the historic building in downtown Laurel. Most of that work is being done by board members and other Laurel Little Theatre volunteers. Last week, during one of the group's work meetings, a significant find removes any doubt to the Arabian's original style and colors. That find happened as George Jackson, Robbie Robinson, Brent Holifield, and other volunteers worked to remove decades-old layers of soundproofing from the balcony's walls. Underneath the layers of wire, horsehair, and cotton they found original paintings on the wall.

"I almost jumped off the ladder I was so excited," Jackson said. "I was extremely excited. We just knew it was there."

"There appeared to be some kind of detail," Robinson said as the group just started their search. Then, after finding it the first time, "Oh my gosh! It's beautiful. It's just unreal."

Robinson said he has no doubts the theatre is meant to be in the Egyptian Revival style. Robinson is working with the group to help restore the Arabian to how it really looked in 1927.

"I'm trying as hard as I can to make it historically accurate," he said. That project has led him to talking with people who remember the theatre, looking at photos, and plenty of research.

"I look at this theatre, look at this jewel. We have got to get this theatre back for the people of Laurel," Robinson said.

The Standing Room Only campaign was the brainstorm of the Laurel Little Theatre to help get the Arabian back to glory for Laurel. Robinson said dozens of people and businesses have helped. "We've had fabulous, wonderful support from the community," he said.

But, there's much more work to be done. "We need money," Jackson said. The original campaign, he said, was to replace the seats, possibly paint, and to tackle the flooring. People in the community responded, and expanded on their plans. "The community was kind and generous," Jackson said. "We expanded the campaign because some of the contributions we got were designated to the Arabian sign."

The contributions were towards the sign, but not enough to complete the sign, so that is now included in the budget. The same goes for the courtyard out front, including an arch to connect the Arabian with Pinehurst Park. "That expanded the budget a bit," he said.

Initial numbers ran a total of $85,000 needed. Now the budget is more like $125,000. Jackson said they have already received about $100,000 of their goal.

Jackson said the Laurel Little Theatre's operating budget will also go towards some improvements, including a new communications system for the volunteer staff. "We have to communicate all the time," Jackson said. "It's a real theatre communication system. Patrons may not see a benefit other than the smoother operation of plays."

"We're close and we're confident," Jackson said. The group is shooting for opening week of its next season to be the second week of November, but money is needed soon to get the projects completed. Donations, which are tax deductible, can be made by calling Jackson at (601) 671-3211 or by visiting www.laurellittletheatre.com.


back to top of page
---


Actress Began Career In Laurel
Mary Elizabeth Ellis Credits LLT, Bond With Giving Her The Acting Bug
By David Owens at the Laurel Leader-Call February 2010

This weekend, a Laurel native will be one of the many featured performers at the annual Oxford Film Festival in Oxford, Miss.

Mary Elizabeth Ellis, who traces her roots to the Laurel Little Theatre, will star in A Quiet Little Marriage, which she helped write with director Mo Perkins and co-star Cy Carter.

Ellis, a star of the FX show It's Always Sunny in Philadelphia, describes her film as follows, "A Quiet Little Marriage is the story of Dax and Olive, a young married couple that seem to have a perfect relationship, that is until the topic of children comes up. They both have their own reasons fort heir positions on the topic. Olive is struggling with her father's (West Wing's Michael O'Neill) early-onset Alzheimer's, and Dax has trouble with his drug addicted brother (Date Night's Jimmi Simpson). When the lines of communication break down, the relationship falls into a tailspin, forcing the couple to face their issues head on."

Ellis said her love of acting began at a very young age, when she acted in summer plays directed by Wess Hughes at the Laurel Little Theatre while in elementary school and junior high.

"Mrs. Virginia Bond began a theatre program at Jones Junior High when I was there, which fueled my love for the stage even more," Ellis said. "However, it was in Mrs. Anita Boyd's theatre program at Watkins that I really understood acting was what I wanted to dedicate my life to."

"The plays that we put on there were always so fun, and being on stage felt so natural," she added. "Through work on stage as well as drama competitions, Mrs. Boyd fueled my passion for acting and taught me to really love it."

After high school, Ellis attended Southern Methodist University's Meadows School of the Arts, majoring in acting. She was later cast in Shakespeare's The Tempest at PCPA (Pacific Conservatory for the Performing Arts) in Santa Maria, Calif.

"My mom and I drove everything I owned out to California, and after a summer of theatre, I decided to stay on the West Coast to pursue a television and film career," she said. "I worked for years on getting an agent and manager by doing regional theatre and commercial work as well as participating in acting workshops in L.A. I was cast in a few guest spots on television shows such as Molly Shannon's Cracking Up, but my real break came when It's Always Sunny in Philadelphia was picked up by FX."

The show, also known as Sunny, was co-created by her then-boyfriend now-husband Charlie Day, Rob McElhenney and Glenn Howerton. Several episodes were shot using their own cameras in their own apartments, Ellis said.

"In those first home-made episodes, I played a character named 'The Waitress' that Charlie's character is obsessed with, so when FX bought the show the guys brought my character along," Ellis said. "It's been a really fantastic process. It's rare for a television show to find such an incredible fan base. We all feel very blessed."

It's Always Sunny in Philadelphia will begin shooting its sixth season in April, with the show moving into syndication beginning in 2011.

While Ellis has had guest roles on shows such as House, Without a Trace and Cold Case, she calls Sunny her favorite.

"We are all friends and super comfortable just playing around with each other," she said. "This past year, we did a six city tour with a live stage version of an episode called The Nightman Cometh in which Charlie writes a musical to impress The Waitress. Taking our show to the stage, where we all began our acting careers, was absolutely amazing. I hope we get a chance to tour more cities!"

Ellis said A Quiet Little Marriage, which will show Friday and Sunday in Oxford, was created after she, Carter and Perkins worked together on the latter's graduate thesis short film at UCLA.

"We sat down to figure out what we wanted the project to be about," she said. "Both Mo and Cy had been married for about a year, and my marriage was only a couple of months old. What was really speaking to us was the way we live with someone when we're married, the quiet moments, existing intimately in a space with someone else, performing everyday tasks together but separately.

"We wanted to explore what marriage means to our generation, and to us as individuals, then breathe that life into the lives of these characters," Ellis added. "Together, the three of us outlined a story in great detail. Then, we got together and improvised loosely written scenes. From those improvisations we got the more specific shapes of the scenes even many of the lines for the film.

"We also worked on scenes that didn't make it into the shooting part of the film," she continued. "This process created such a rich life for our characters that when we finally shot the film (in only 14 days) we had already done our prep work and the shooting went pretty smoothly."

Ellis credited Eric Zimmerman, who served as director of photography, and Perkins' brother, Dave Lux, who scored the film.

"All of our guest actors were phenomenal, as was the crew," she said. "The story came together better than we could have imagined, and we are extremely proud of our little film."

As a native Mississippian, Ellis said she is proud to bring the film back to her home state.

"We know what a rich culture we have, and it's only right that we share with the world," she said. "Hosting film festivals will bring tourism into our beautiful state, and hopefully inspire people to shoot their future projects here. I am very much looking forward to visiting Oxford and sharing my work with my fellow Mississippians."

For more information on the Oxford Film Festival, visit www.oxfordfilmfest.com. Information on A Quiet Little Marriage can be found at www.quietlittlemarriage.com.


back to top of page
---


Some LLT Memories
By Dena Bisnette to the LLT website May 25, 2010

Hi Wess, Thanks for posting the photo on the LLT website of Dad (John Bisnette) and Mr. Graves (Ernest Graves) in The Fantasticks. I just returned from a visit in Laurel, Hattiesburg and New Orleans, where my husband repaired Mom's computer so they could also take a look. If you ever put together anecdotal memories about LLT, I can give you quite a few, even though I was never in a single production.

I started rehearsing Dad's lines with him when he was doing The Odd Couple with Lowell Tew (yes, I was only seven or eight) and remember him calling me to come home from USM to rehearse with him. I remember going to lots of dress rehearsals, where several times I sat with Jim Gibbons from WDAM-TV, but can not recall seeing an actual production until I was in high school.

I was there the night the set fell on during My Three Angels, but I don't think I was there the night Dad fell over the coffee table during The Odd Couple because I don't think I was allowed to stay up that late.

I remember you complaining to me at Pizza Hut that Dad didn't know his lines in some show and it was just a couple of rehearsals until final dress rehearsal night and telling you not to worry. I don't remember which play, but I'm sure it was more than once.

When I lived on the Gulf Coast, I saw Bay St. Louis Little Theatre do God's Favorite and suggested it to Dad, who was on the reading committee that season. "You got me in trouble," Dad said on the phone. "They picked your play, and I'm in it. Are you coming up here to help me rehearse?" And I remember how good he was as the messenger, even though I'd had him in mind for the title role.

I also remember going to his last performance in The King and I and wondering if anybody else knew what I did -- by that time he was so hard of hearing it probably would be his last show. It was.

Those were some fun memories. Thanks for bringing them back. My one regret is that LLT never did The Man Who Came To Dinner. I always thought Dad would have been wonderful in the Monty Wooley role.

Keep up the good work on the website. Yours in nostalgia, Dena Bisnette


back to top of page
---


Little Theatre Alum To Star in NBC Series This Fall
Ellis' Job Description Includes 'Yelling, Crying, Throwing Things And Making Out!'
By Emily Cegielski at The Review June 24, 2010

Laurel's own Mary Elizabeth Ellis is set to star in an upcoming "half-hour, single-camera comedy" for NBC this fall. The series, called Perfect Couples, depicts three couples trying to find out what makes an ideal relationship.

"My character is named Amy, and she is in a passionate relationship with Vance (played by David Walton)," said Ellis, 31. "I love playing Amy because she commits so completely to her feelings. I get to yell, cry, throw things, dance and sing and there is a lot of making out."

Although she admits that adding "making out" to her job description is weird, she is thrilled to be working with a group of actors and actresses that include Christine Woods (from FlashForward), Olivia Mann (from Greek), Hayes MacArthur (from She's Out Of My League) and David Walton (from Fired Up!).

"The writers are working on the next 12 episodes now, so I don't know where the show is going yet," Ellis said. "I can't wait to get to work on it though and, luckily for me, the shooting schedule is different from Sunny's schedule, so I will also be in two Sunny episodes as the waitress this year for our sixth season."

Ellis has spent the past five years playing the waitress on the FX series It's Always Sunny In Philadelphia and she has also made a name for herself in independent cinema. Her film A Quiet Little Marriage won Best Narrative Feature at the Slamdance Festival in 2009 and the Audience Award at the Austin Film Festival in 2008.

"It is such a special film for me because of how we made it," said Ellis. "We developed the story over a year through improvisation, then shot it on a shoestring budget mostly in the lead actor's and director's apartments with our talented friends."

The story, which Ellis co-wrote with director Mo Perkins and fellow actor Cy Carter, follows a couple whose marriage begins to be destroyed after they disagree on having children. Ellis' character Olive begins punching holes in her diaphragm and her husband Dax begins slipping birth control pills into her morning coffee. "The movie comes out on DVD on August 31," Ellis said. "IFC bought it and is distributing the movie and we're very thrilled to be able to share out work with anyone who is interested."

Although Ellis seems to have made it on the small screen with her new television show coming out, her journey to this point has not been an easy one. She points to her passion, her perseverance and the supportive people in her life for her success.

"I always knew that I wanted to be a performer," Ellis said. "I would memorize every verse of every nursery rhyme and make my family watch me perform it while I tap-danced around."

Her early childhood, filled with singing and dancing, led her parents, Dr. Steve and Judy Ellis, to put her in musicals at the Laurel Little Theatre every summer. Ellis also points to her Laurel High School drama coach, Anita Boyd, as being influential in her decision to become an actress.

"In high school drama with Mrs. Boyd, I realized that I wanted to pursue acting as a career and not just a hobby," explained Ellis. "She was a huge part of the decision." A trip to New York to see plays on Broadway tied the strings for Ellis who "would always cry during the applause at the end."

"I loved theatre. To be able to move that many people, to create an alternate reality for the length of the story, to provide that escapism for the audience is just so magical and important," Ellis said.

Growing up in Mississippi, Ellis never felt that she was limited by geographical restraints. Her parents encouraged her to go after her dreams and never tried to talk her out of acting.

"I never felt that I couldn't become an actress," Ellis said. "I think that confidence came from the fact that other actors from our area had become successful." Ellis recounts Tom Lester (from Green Acres) coming to talk to one of her classes at Jones Junior High and how she had admired his work. Also, photographs of Parker Posey (Boston Legal, Superman Returns) in Mrs. Boyd's office provided motivation and confidence.

"Laurel has a lot of talented artists that still create great work in our community," said Ellis. "There were great plays at the Laurel Little Theatre. I feel blessed to have that in my life."

Ellis left Laurel when she was accepted to Southern Methodist University's Meadows School of the Arts in Atlanta. After graduating, she worked on regional productions, short films and writing and acting in shows at the Upright Citizen's Brigade Theatre in Los Angeles. For money, she taught gymnastics, hosted at Olive Garden, sword fought as a pirate at kids' birthday parties and cater-waited.

"We have all of these reality shows now that make people famous for nothing or super quickly," explained Ellis, "but people forget that it rarely happens that way. It's not fun while you're doing it, but it's nice to look back and think 'I worked hard to get where I am and doing those stupid jobs made me a more interesting person.' I guess I have always thought of it as paying my dues."

But now that she has 'made it,' as a lot of actors would say, Ellis isn't content to sit back and wait for more big breaks. She continues to work harder than ever before to keep her dreams alive. "Every time a job ends there is always the fear that no more will come, but every actor feels that way," said Ellis. "That's more of a day-to-day fear which is overshadowed by my confidence that this is exactly what I want to be doing...that I couldn't possibly do anything else."

Paraphrasing fellow Mississippian Sam Haskell, who has been an agent to stars such as George Clooney and Dolly Parton, Ellis said, "You never arrive. You never finish working, because if you ever feel like you've achieved the last goal, you're wrong. There should always be something you're striving for."


back to top of page
---


A 'Medium' Sized Role
Laurel Little Theatre Alum Hopeful About Future In Acting
By Emily Cegielski at The Review July 1, 2010

A familiar Jones County face has recently been spotted on the small screen. Laurel native Jason Dechert made a guest appearance on the May 14 episode of the CBS show Medium.

Dechert, a Laurel Little Theatre alum, has been acting for as long as he can remember. "I always wanted to be an actor...just like I always wanted to be an animator, professional tennis player and Indiana Jones," Dechert said.

After graduating from R.H.Watkins High School, Dechert made the move to Tennessee and became involved with Vanderbilt's theatre program. "I loved a lot of different things growing up, but Vanderbilt is where things became clearer and I chose to pursue a life in theatre, or rather, the theatre chose me," Dechert said. "Vanderbilt was an incredibly nurturing environment, and the theatre department was small and personal with faculty as curious and as involved as the students."

Once he received his B.A. in theatre from Vanderbilt in 2006, he picked up the pace of his career and headed into the Tisch School of the Arts at New York University. His time there became crucial to his development as an actor.

"Grad school at NYC was the toughest and most rewarding experience of my life thus far," Dechart said. "It was a place where we--me and my fellow graduate students--didn't have to hide. We could reveal all of our monsters and not be judged."

Last summer, after graduating with an M.F.A. in acting, Dechert landed a role in a New York play, but it didn't take him long to realize that Los Angeles was where he wanted to be. But Los Angeles isn't for the weak of heart, and it wasn't until after booking his role on Medium that auditions became a regular occurrence.

"I work at a bookstore regularly and try to pick up other jobs when I can, but I keep my days free for auditions, exercise, writing, reading scripts and pretty much anything else that will keep my acting muscles in good shape," said Dechert.

The Medium role has brought him more attention as an actor, but the process of getting the gig came through a normal auditioning procedure. "I got the job on Medium in a pretty conventional way," Dechert said. "I auditioned in the morning, was called back for the producers in the afternoon and got a call from my agent later that day with the offer. It was all very fast."

Now that auditions have become more than a "once-a-month type thing" for him, Dechert looks at the future with hope and enthusiasm. "I hope to grow as an actor and person with each role and to stay present in my life," Dechert said. "One of my classmates liked to say, 'If you've got one foot in the past and one foot in the future, you're pissing all over the present.' "

And as young as he is, the 26-year-old actor is full of wisdom for those also interested in pursuing an acting career. "Learn as much as you can about acting, about theatre and about people," Dechert said. "Become an active participant in the world. It is imperative that we live with compassion. Somebody smarter than me once said that it is only in understanding other people that we can understand ourselves, and that is awesome advice for anyone."


back to top of page
---


An Arabian Theatre Memory
By Nancy Musgrove to the LLT Website October 18, 2010

My parents met in July of 1946 as they waited in line to enter the Arabian Theatre for a popular movie on a Sunday afternoon. Six months later, they married. Our late dad, Morris Jefferson Musgrove grew up on old family land near Soso and had recently returned from soldiering in European "theatre" after an earlier stint working on the Panama Canal. My mom, Ada Frances Finch Musgrove, grew up on Old Bay Springs Road in Laurel, and still lives in Soso. She had recently returned from six months in Washington, DC, doing her part in the war era for the Federal Bureau of Investigation. They were married 55 years and had raised four children by the time Morris passed in 2002. We are glad you have maintained so much of the integrity, history and lore of the Arabian Theatre!

Best wishes! Nancy Carol Musgrove


back to top of page
---
Our own Wess Hughes makes a television appearance! He talks up the 2010 - 2011 season and The Patrons' Gala! October 14, 2010
Only compatible with Firefox, Chrome, Safari. Not Compatible with Internet Explorer 8
back to top of page
---


PROFILES 2011: Golden Years
Laurel Little Theatre Celebrates 50 Years Of Entertaining Community
By David Owens at the Laurel Leader-Call March 12, 2011

It was August 1961 when four Laurel residents met in a bowling alley located next to the Laurel Leader-Call to form what would become the Laurel Little Theatre.

The group, which included Marda Kaiser Burton, Mary Anne Sumrall, Ernest Graves and Gene Gandrau, wanted to give those who enjoyed the theatre or wanted to display their talents a local showcase.

Wess Hughes, the LLT historian, said the theatre group was organized in the old Pinehurst Hotel Coffee Shop, which was located inside of the historic hotel.

"The first couple years, we were just in the high schools," Hughes said. "We could only get in the schools a day or two before the show, so sets and productions had to be fairly simple. We couldn't do musicals, just smaller comedies and dramas, and could only run a performance or two."

Hughes said that original group featured well-known Laurel residents including Jim Gibbon, Annie Ruth Grim, Page Jones Harris, Billy Howard Jr., Billy Lightsey, Ruth Tomlinson, Dot Traweek and Granville Walters.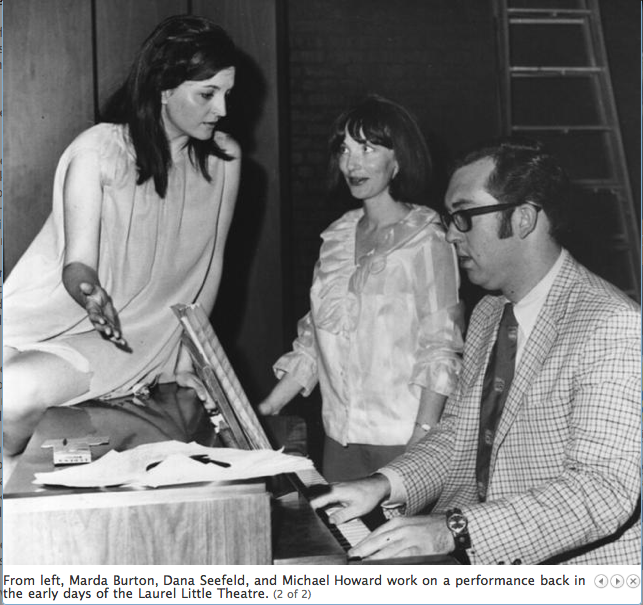 "Their goal was to present Laurel citizens with entertainment and to give would-be thespians a chance to get up on a stage and ham it up for their friends and family," Hughes said. "Now, five decades later, that's still our main goal at the theatre. Little did those founders know in 1961 that one day that very group they organized would be performing in the old Arabian movie house just right next door to the Pinehurst Coffee Shop where they were meeting to form the group."

Hughes said the group began performing in the early '60s at the Wisner Building, Mason Elementary School or Watkins High School. In 1967, Laurel Little Theatre leased space at the old Downtown Armory Building, and was even featured at the Lauren Rogers Museum of Art during those years in a "Sunday at the Museum" series.

Downtown Urban Renewal forced LLT out of the Armory in 1976. After searching for a new home, the group landed at the Arabian Theatre, which had just recently gone out of business. When LLT moved in to the Arabian, the original 1927 paint colors and Arabic, Persian and Egyptian features were restored. Thanks to the contributions of local businesses and individual patrons, the building was renovated and debt-free in three years.

Hughes said it was only after LLT moved into the Arabian Theatre that they could do more elaborate shows.

"But, we're still constricted," he said. "The theatre was built as a movie house so there's no wing space or fly system. We still have to compromise on everything we do."

Hughes said the Arabian Theatre, which was built by Sank Taylor, was one of seven or eight downtown movie theatres in Laurel at one time.

"The movies were your only entertainment," he said. "People went two to three times a week because they also showed news reels."

Hughes said he recently located Taylor's daughter Evelyn, who danced on Broadway and was a featured performer in the movie Oklahoma!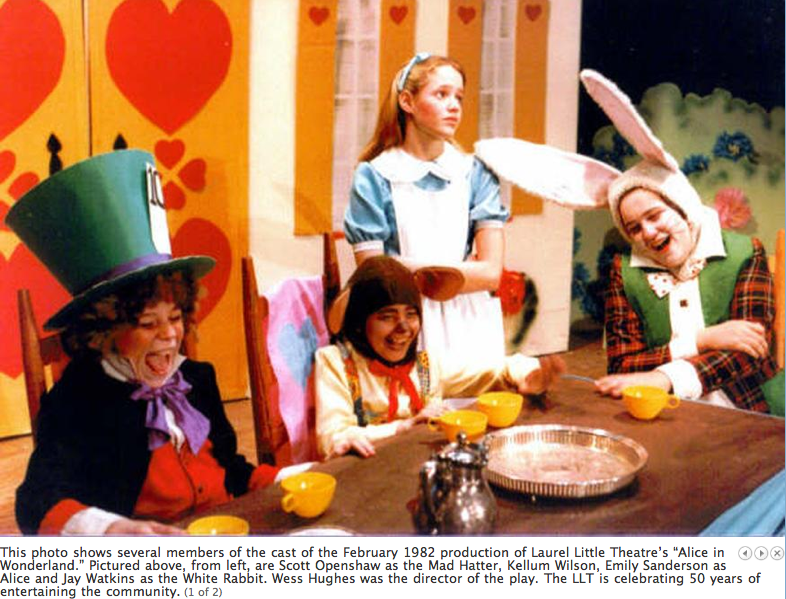 "She married co-actor Rufus Smith, who we got to direct a show at LLT in the '60s," he said. "Rufus was on Broadway with Ethel Merman in Annie Get Your Gun."

Hughes said LLT hopes to host another fundraising drive in a few years to add on to the building.

"We want to build on the south side what will be called the Pinehurst addition, because it will be exactly where the old Pinehurst Hotel was," he said. "We want to grow our wing space and stage and add on a meeting room, hospitality room, new bathrooms and refreshment area."

Hughes said LLT's 50th season has been "one of our best seasons ever."

"We kicked it off with BEEHIVE! The 60's Musical, and had to hold it over for a whole extra week," he said. "Our second show, To Kill A Mockingbird, was also sold out for its initial run and we had to add on another weekend."

Hughes said the theatre group's most recent product, Daddy's Dyin'... Who's Got the Will?, was also very successful.

The season will conclude with Hairspray on May 12-15. Set in 1962 Baltimore, Md., the musical — directed by Lacy Cockrell — tells the story of "pleasantly plump" teen Tracy Turnblad, whose dream is to dance on a local TV dance program. When she makes the show, Turnblad becomes an overnight celebrity, and uses her fame to improve the situation for outcasts at her school.

"Membership is up this year, and we've had record levels with our attendance," he said. "There's been a lot of interest in the theatre since we did renovations two years ago. We did a lot of interior work on the Arabian and got it gussied up a little bit."

Hughes said LLT also recently added a a Headrick's sign to the building, which is the first time the building has actually carried the Laurel Little Theatre name.

"When the hotel was torn down, the common wall that was between the hotel and theatre was just a blank space," he said. "There were no architectural details or elements of art to it, and it had been like that since the hotel was demolished in 1988.

"We always wanted to work on that look," Hughes added. "We wanted to have the look of what an exterior of a theatre would have looked like if it was a freestanding theatre built in 1927."

Hughes said LLT also added several new display cases and re-electrified the neon sign for the Arabian Theatre.

The Arabian Theatre, which was built in 1927, carries many of the same design elements of the Saenger Theatre buildings in Hattiesburg, New Orleans and elsewhere.

He noted that many of the grand theatres of the 1920s were designed with Arabic, Egyptian and Persian influences because King Tut's tomb had been discovered in 1922 and remained in the nation's headlines for years.

"The whole world was fascinated by Egyptology and the Arabian Peninsula," Hughes said. The Chicago Theatre and Atlanta's Fox Theatre among many others feature these elements.

Over the years, a number of LLT performers have gone on to hit it big, including Tom Lester of Green Acres fame; Patrick Weathers, a former Saturday Night Live cast member; Parker Posey, who has starred in such films as You've Got Mail, Superman Returns and Waiting for Guffman; and Mary Elizabeth Ellis, currently starring on NBC's Perfect Couples.

"We're proud of the progeny we've had over the years," Hughes said. "Mike Howard used to direct a lot for us, and is now the head of the theatre department at Tulane. I moved on, and have done shows from New Orleans to California."

Among the performances in the early years were Born Yesterday, Dial M for Murder, The Curious Savage and The Man Who Came to Dinner and The Philadelphia Story. Well known Broadway hits such as Showboat and Oliver, as well as classic Tennessee Williams productions and The Wizard of Oz and The Sound of Music have also been featured.

"Our productions are pretty slick," Hughes said. "It always amazes me the talent we have in Jones County. It's pleasant to go back and work there. We've always had great support from our patrons, audience, actors and singers."

For more information on the Laurel Little Theatre, visit www.laurellittletheatre.com.

Click here for the full LLC PROFILE story.



back to top of page
---