COMING UP AT THE ARABIAN
Oct 4 - 7 and 12 - 14
Annie
---
October 6th
Annual
Patrons' Gala

Cocktail Party
---
October 8 - 9
Auditions
Always...Patsy Cline
ANNUAL
PATRONS' GALA
COCKTAIL HOUR

6PM - 7PM
Saturday,
October 6th

Performance
7:30 PM

This year's annual patrons' party will be a little different. Join us in the lobby of the Arabian at 6PM on Saturday evening, October 6th for a special hour of cocktails and hors d'oeuvres, and then have the benefit of being the first to select your seat for that evening's performance of ANNIE before the front doors open for regular ticket sales.

Our patrons will even get to enjoy watching the last minute sound checks and stage preparations that occur before a performance. Invitations to this event will be mailed to all levels of patrons.

Patrons will still need to call 601.428.0140 to make a reservation for the October 6th performance since we expect a sell out that evening.
RESERVATIONS AND CANCELLATIONS
Our reservations line is open only the week of each production, but it's answered 24 hours a day. Call 601.428.0140 on show weeks to make a courtesy reservation for any performance.

However, a last minute cancellation means empty seats for us! We can't fill a seat at the last second, so please call at least 24 hours in advance to release any reservations you won't be using.

NEW SHOWTIMES!!!

You asked for it--You got it! After many years of requests for an earlier curtain, and many years of discussions, we've decided to finally go for it!
We'll start all of our evening performances this season at 7:30PM instead of the old 8:00PM start time. Sunday matinees will still begin at 2PM.
As always, the auditorium opens a half hour before each performance.

Would you like to receive our email newsletter and annual season brochure?
Click here to be added to our
mailing list

BLAST FROM
THE PAST
LLT began in 1961 and our Arabian Theatre was opened in 1927. We'll feature old photos in this section that will change frequently.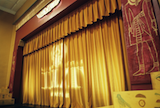 2008-Arabian Proscenium Arch
---
1920s
PINEHURST HOTEL
A great old post card photo of the Pinehurst Hotel from back in the 20s. This was before an addition in 1927 added extra hotel rooms over to the right along with the Arabian Theatre right behind them. The Pinehurst was demolished in 1988, but we'll start a fund drive this fall to build our own PINEHURST ROOM addition to the Arabian--right where the old hotel used to stand. We'll even recreate the old secret side entrance that used to allow hotel guests to go straight into the theatre from right inside the hotel!
---
1988
PINEHURST DEMOLITION
A photo taken from City Hall looking at the demolition of the Pinehurst Hotel and the old Arabian Theatre marquee. Our current courtyard is where that original signage used to be. The theatre is the tallest building you see on the right - behind the row of empty windows that were about to come down. The beautiful little Pinehurst Park we have today is located where the ruins remain on the left side of this photo.
Click here to see our entire collection of LLT and Arabian photos.
GOT ANY OLD PHOTOS OR STORIES OF LLT OR THE ARABIAN???
We're looking for more old pictures of the Arabian Theatre, or any of the over 200 shows we've produced at LLT over the last five decades. If you have any, you can scan and email it to us at

LLTLaurelMS@aol.com

, or drop a line and we'll just borrow it long enough to make a copy and return the original to you. If you have a great story you'd like to share, write it up and send it on. We'll be sharing throughout the season on our website.
LLT ALUMNI
PARKEY POSEY'S
NEW MOVIE

Laurel's own Parker Posey has another movie completed and the release is expected for later this fall. She'll be starring in HIGHLAND PARK along with Danny Glover and Billie Burke.

Parker was known to us as 'Missy' when she was still in high school at R.H. Watkins High and appeared in our LLT '86 stage production of HARVEY. After she left Laurel, she went on to become an acclaimed Broadway, TV and movie actress having the title 'Queen of the Indies' bestowed on her by TIME magazine.
Click here to see a photo of Parker from LLT's '86 Harvey

LLT ALUMNI
STARS IN WEEKLY
FOX-TV SERIES
Mary Elizabeth Ellis, one of our LLT alumni, has made quite the name for herself out in L.A. and is currently appearing in the new FOX-TV series
NEW GIRL along with star Zooey Deschanel. The show has been a critical success and airs on FOX on Tuesday nights. Mary Elizabeth has also been a recurring character on FX-TV's IT'S ALWAYS SUNNY IN PHILADELPHIA for several years now. Her husband Charlie Day is also on that show and the couple just celebrated the birth of their new son, Russell, just before Christmas.

Click here to read more stories on Mary Elizabeth.

OUR 53rd REMARKABLE SEASON
3 Tony Award-Winning Shows! 1 Brand New Southern Comedy!

Join now as a 2012-2013 Season Member
See all 4 productions for less than $9 a show
Live theatre for less than the cost of a movie!


JUST COMPARE TICKET PRICES
Our 4-Punch Season Ticket
$35


($8.75 per ticket average)

vs.
Buying 4 Single Tickets
$68
($17 per ticket)
A 49% SAVINGS TO JOIN AS A SEASON TICKET HOLDER

And there's even GREATER SAVINGS for students, seniors and families with their Season Tickets averaging just

$6.50-$7.50

per show!!!


---
Not Part Of Our 4-Show Season, But Also Coming Up This Year!
a fund raiser
return of our biggest hit ever
our annual summer kids' camp
---
COMING UP NEXT AT THE ARABIAN





ANNIE

Tony Award Winner!
1977's Best Musical


October 4 - 7 and 12 - 14, 2012

Directed by Lacy Cockrell

Leapin' Lizards!!! The sun'll come out...tomorrow!!! The musical ANNIE opened on Broadway exactly 35 years ago and swept all the Tony Awards that year and entertained audiences for 2,377 performances. To celebrate Annie's birthday, a brand new revival of the show will open in NYC this fall, and LLT has secured the rights to bring her back to our own stage as well--just ONE DAY after it opens on Broadway!

Our previous productions in 1991 and 2005 sold out to record houses, and we expect it'll happen again as we kick off our 53rd Season this October with Annie and her dog Sandy, Daddy Warbucks and the mean Miss Hannigan and all those lovable orphans.


---



RAISE THE ROOF!

We're Building the LLT Pinehurst Room!

To kick it off, we're bringing back
as a special fund raiser






ALWAYS...PATSY CLINE

November 1-4 and 9-11, 2012

Directed by Wess Hughes

Join in and help Laurel Little Theatre as we embark on a major fund drive to build the brand new Pinehurst Room and extension to our historic Arabian Theatre. This will be a huge addition running down the entire length of the south side of the theatre, exactly where the old Pinehurst Hotel originally stood from the 1920s until it was demolished in the late 1980s!

When the Arabian was built in 1927 it had two common walls with the Pinehurst and there was even a secret courtesy door that went directly from the hotel into the side of the Arabian's Lobby. We'll be recreating that entrance and building what we'll be calling the Pinehurst Room with a huge new concession and meeting room and lots of new restrooms. That's right ladies, no more long lines waiting for the loo!!!! Further down the southern wall will be new set construction and storage areas as well as new dressing rooms and cast restrooms.

We plan to use the new Pinehurst Room to showcase tons of old photographs of the old Pinehurst Hotel and the Arabian and Strand Theatres that Sank Taylor, Charles Green and B.A. Schneider had built in Laurel back in the 1920s when the movie palaces were first popping up all over the country. If anyone has any old great photos of the hotel or the theatres or Downtown Laurel, drop us a line at LLTLaurelMS@aol.com so we might add to our collection.

And to remember those of you that join in with contributions to this fund drive, there will be an entire Wall of Honor with your names engraved.

We're kicking off this fund drive with a special return engagement of LLT's most successful production ever, ALWAYS...PATSY CLINE. This will be our fourth presentation of the musical that celebrates the life and songs of the great country singer, and it's sold out every time we've had it on our stages.

Director Wess Hughes and Music Director Michelle Howells will be back with Missy Sanderson as Patsy and Catherine Nowicki playing her funny side-kick Louise. As usual, the evening will begin with a rousin' Grand Ole Opry Talent Show featuring some of the great performers of the Pine Belt.

ALWAYS...PATSY CLINE will be a special fund-raiser and not part of our regular 4-show season.


---




PROOF

Tony Award Winner!
Pulitzer Prize Winner!
2002's Best Play


January 10 - 13, 2013

Directed by Sam Buchanan and Jessica Shaidnagle

Set on a back porch in present day Chicago, the drama PROOF is the story of a guy, a girl, and a math equation. The young woman has just lost her brilliant but disturbed mathematician father, and in the wake of his death she must deal with her own volatile emotions, the arrival of her overbearing estranged sister and the attentions of the boy, a former student of her father.

After a notebook is found with an equation that might prove to be an important discovery, it's assumed her father wrote it - only in truth, she is the author and now she's wondering exactly what she inherited from her father: genius, or insanity? The 'proof' is in the viewing.



---




THE DIXIE SWIM CLUB

Brand NEW Hilarious
Southern Comedy!


March 21 - 24, 2013

Directed by Cherie Boone

Imagine the sassy gals of Steel Magnolias, Designing Women and Golden Girls all wrapped up in one hilarious comedy and you'd have THE DIXIE SWIM CLUB! Five Southern ladies that were on their college swim team have remained life-long friends and meet every summer at a North Carolina beach cottage to get free from husbands, kids and jobs. You'll see them age through their 40s, 50s, 60s and 70s as they dish about their loves, meddle in each others lives and laugh 'til they cry.

THE DIXIE SWIM CLUB is a deliciously funny gut-busting Southern-fried comedy. You'll laugh out loud and roar with laughter until your face hurts! Sit a spell and let the humor wash over you like an ice-cold Dr. Pepper on a hot summer day!


---





1776

Tony Award Winner!
1969's Best Musical


May 16 - 19 and 25 - 26, 2013

Directed by Frankie Bennett & Wess Hughes

It was a blistering hot summer in 1776, and the nation was ready to revolt - if only our founding fathers could finally agree to it! This play with music follows argumentative John Adams, eccentric Ben Franklin, and brilliant young statesman Thomas Jefferson as they attempt to convince the second Continental Congress to vote for signing the Declaration of Independence from the shackles of the British monarchy.

1776 portrays the founding fathers not as the legendary icons they sometimes become in history books, but as the real human beings they truly were. It's filled with history and humor and romance - an unconventional but astonishing musical that's patriotic, witty and breathtaking as it tells the 236 year old story.


---




Disney's THE LITTLE MERMAID

Our Annual Summer Kids' Camp


May 30 - June 9, 2013

Directed by Katelyn Bryant

Our annual Summer Kids' Camp is an intensive one week workshop where students have a memorable time learning the audition and rehearsal process and then end the week with performances of THE LITTLE MERMAID, Jr.

Disney had huge hits with both the animated movie and the Broadway production of LITTLE MERMAID, featuring the memorable characters of the mermaid Ariel, King Triton, Prince Eric and the sea witch Ursula. Our camp is open to elementary and junior high students. Pre-registration is required next spring since the camp will sell out in advance and auditions for leads will take place in early May.



Our Kids' Camp is not part of our regular 4-show season.




---

REMEMBER LLT IN YOUR GIFT GIVING

As a non-profit organization, LLT has always depended upon "the kindness of strangers." We've survived and thrived for five decades thanks to the great support of everyone in the community.

We're very proud of our historic 1927 Arabian Theatre, but we have to constantly work at keeping the facility maintained, and we have big plans to add the new Pinehurst Room extension in the next year or so. That addition will run along the south side of the Arabian exactly where the old Pinehurst Hotel stood. And, YES, ladies, there will be brand new restrooms so you won't have to stand in that long line anymore!

We'll need the help of our friends and families and even strangers to raise the funds to complete this. Remember us in your annual gift giving and in your wills and estate planning. So many of our beautiful old buildings in Downtown Laurel have disappeared - help us to ensure this one continues to thrive. We're planning a Wall of Honor in the new Pinehurst Room that will memorialize your name or the name of those you'd like to remember. Mail to LLTLaurelMS@aol.com for more info.


---


BACKSTAGE VOLUNTEERS

We're always looking for folks that would like to help backstage on sets, props and costumes. Do you sew? Like to help slap some paint on a wall? Do a little hammering? Drop us a line.