Past Seasons Show Lists Dropdown Menu:
OUR 2022 - 2023 SEASON
OUR 62nd SEASON OPENER
A VERY NEW MUSICAL!
SOMETHING ROTTEN
July 29-30 & August 5-6 at 730pm
July 31 & August 7 at 2pm

Directed by Frankie Bennett - Music Direction by Susan Smith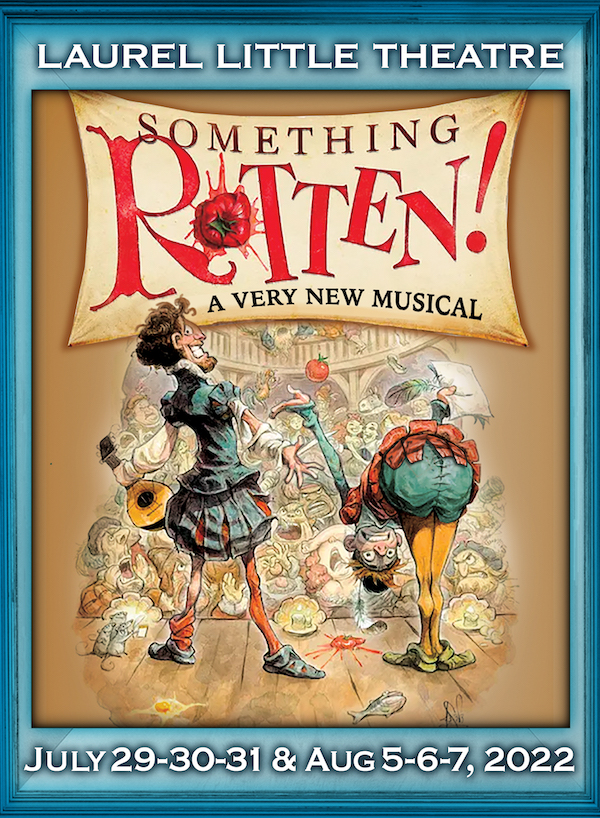 The recent Broadway hit that got multiple Tony Award nominations including "Best Musical." It's got a great score, funny script, big dance numbers and spectacular costumes.
The story? Set in Shakespearean times, a pair of brothers producing theatre shows never seem to have the hits their arch enemy has - the swashbuckler ladies man, William Shakespeare.
So they have a clever idea - why not put words to music to bring in a crowd - creating the world's first 'musical comedy.
'It's super funny as every song spoofs something from our modern shows - from PHANTOM, LEZ MIZ, CATS, OKLAHOMA and even ANNIE - all the shows get included. There's even one big number that has riffs off two dozen different musicals from the last four decades in just one five-minute song!
We've got a huge cast already in rehearsals for our annual summer season opener that promises to be the best laughs of the year!
Click here for SOMETHING ROTTEN cast list.


A SOUTHERN COMEDY!
RIPCORD
October 21-22 & 28-29 at 730pm
October 30 at 2pm
Directed by Rick YoungBlood
Two ladies are thrown together as roommates in a retirement home, but they are NOT a perfect match! One is upbeat and cheerful and optimistic, while the other is very much the opposite and just wants to live alone.
Think of a combination of THE ODD COUPLE mixed in with THE GOLDEN GIRLS. Hilarious!
We see them squirm and fight, and practically kill each other and everyone around them as they devise all kinds of dirty tricks to torment one another. They try to out-prank and out-scare each other hoping that the other will just move out – a perfect Halloween season production.
Written by Pulitzer Prize for Drama winner David Lindsay-Abaire, his witty script is laugh-out-loud funny filled with massive amounts of heart!
ANOTHER SOUTHERN COMEDY!
THE MISS FIRECRACKER CONTEST
February 24-25 & March 3-4 at 730pm
March 5 at 2pm

Directed by Jay Baggett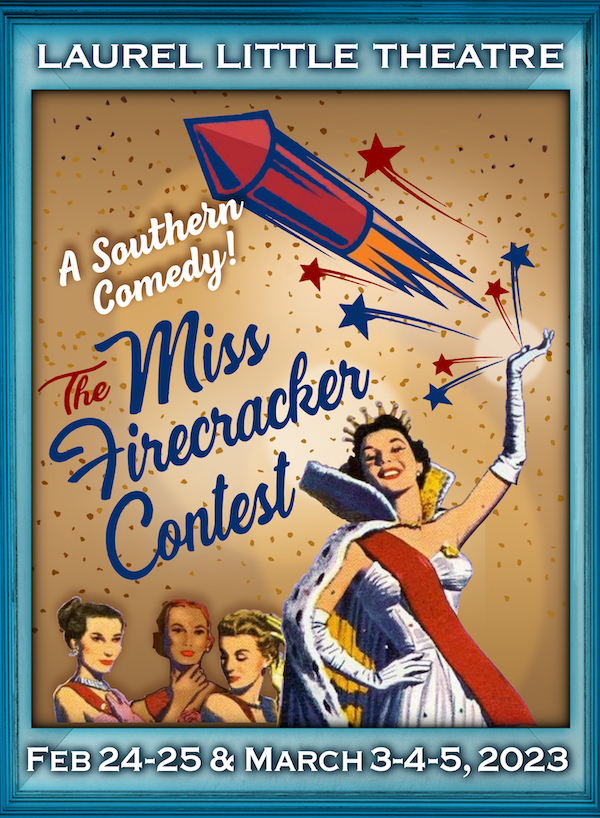 Happy Fourth of July! The burgers are prepped, the brownies are out of the oven, and the Miss Firecracker Contest is about to begin!
Mississippi author Beth Henley won the Pulitzer Prize for Drama for Crimes of the Heart and then followed that up with this explosively funny comedy set in 1984 in our neighboring small town of Brookhaven.
24 year old local resident Carnelle Scott is rehearsing furiously for the contest, the town's annual Fourth of July beauty pageant. She's hoping that a victory will salvage her "checkered past" reputation and prove to everyone that she's a valuable and beautiful young woman and that she really is "someone" in the little town.
Carnelle has a lofty family goal to achieve - her cousin, Elain, had already won the contest herself a few years back.
So Carnelle has a big talent number planned. She taps and turns somersaults to "The Star-Spangled Banner" while clenching a sparkler in her teeth. And Popeye, her near-sighted friend in Coke-bottle glasses, is sewing up a storm on a sequiny costume for her. True talent indeed - her act is so bad that it's actually great!
The play had a long Off-Broadway success and is full of the author's unique gift for finding lots of Southern humor and simple wisdom in all the zany activities leading up to the annual contest. Throw in some charming, but very colorful locals and you have a recipe for lots of belly-laughs in this explosion of red, glitter and blue and homegrown Southern values! A true casserole of sympathy and snickers!
A 1980's film starring Holly Hunter was a big hit and the show has been revived in NYC a few times. Offbeat, funny and moving, it'll play to a chorus of oohs and aaahs!
A FAMILY MUSICAL!
MARY POPPINS JR
June 1-2 at 730pm
June 3 at both 230pm & 730pm
June 4 at 230pm

Directed by Lacy Cockrell - Musical Direction by Shane Cockrell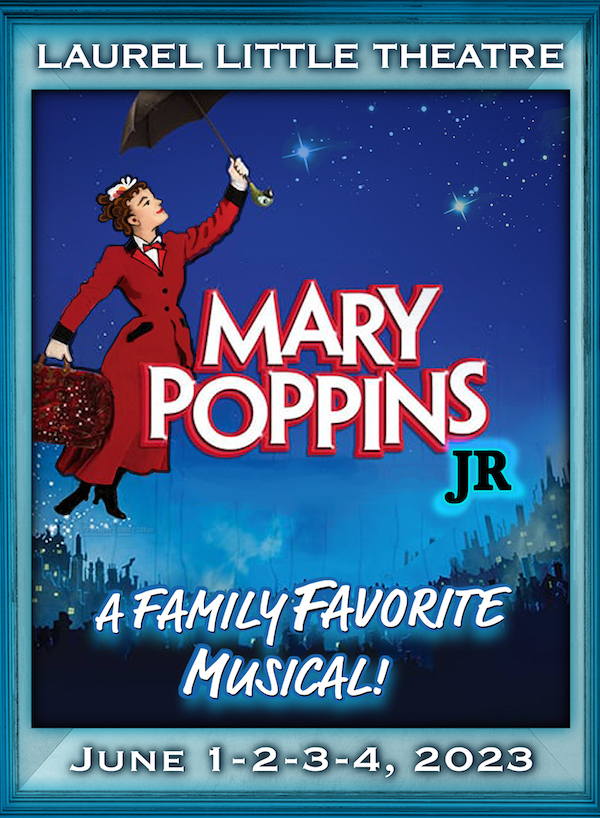 Supercalifragilisticexpialidocious! It's one of the all-time favorites. The story we all grew up knowing is a charmer with magical nanny Mary Poppins and the lovable Banks children.
It'll feature beautiful settings and costumes, and those unforgettable songs that everyone just loves: "A Spoonful Of Sugar," "Feed The Birds," "Let's Go Fly A Kite" and, of course, the forever-loved-tongue-twister... "Supercalifragilisticexpialidocious!"
The show set all kinds of records with the most Oscar nominations for the movie version, as well as "Best Musical" for both the London and NYC stage versions. Our annual Kids' Camp production is a week of rehearsals and workshops that ends with performances from 100 young actors that will AMAZE everyone!